Redland patients receive access to world-class treatment for prostate cancer
Icon patient Rick discusses his experience receiving cutting-edge stereotactic radiation therapy treatment
Rick Steley is the first prostate cancer patient to receive stereotactic body radiation therapy (SBRT) treatment at Icon Cancer Centre Redland. The Russell Island local was diagnosed with prostate cancer in 2017 and shares his story here.
"During a routine health check my GP discovered a sudden jump in my PSA (prostate specific antigen) blood reading. I didn't have any obvious symptoms. It just goes to show how important it is to have regular health checks. My oncologist made it clear that what I had wasn't life threatening because it was picked up so early. That meant I only had to have radiation therapy and not chemotherapy, which I was thankful for," Rick said.
"I had a prostate biopsy to confirm it was cancer. Then I had colonoscopy to ensure the cancer hadn't spread to the bowel, which it hadn't. And then I had the gold seeds (fiducial markers, which are tiny seeds inserted into the prostate to help locate the position of the prostate during radiation therapy planning and treatment). They were all day surgeries, and I had no issues with any of them."
The 72-year-old spent nine years in the Royal Australian Navy Submarine Service, followed by 21 years with QLD police and over 20 years in the IT industry. As a self-confessed "tech nerd", Rick was excited when he was informed he was suitable to be the first stereotactic radiation therapy patient at Icon Cancer Centre Redland.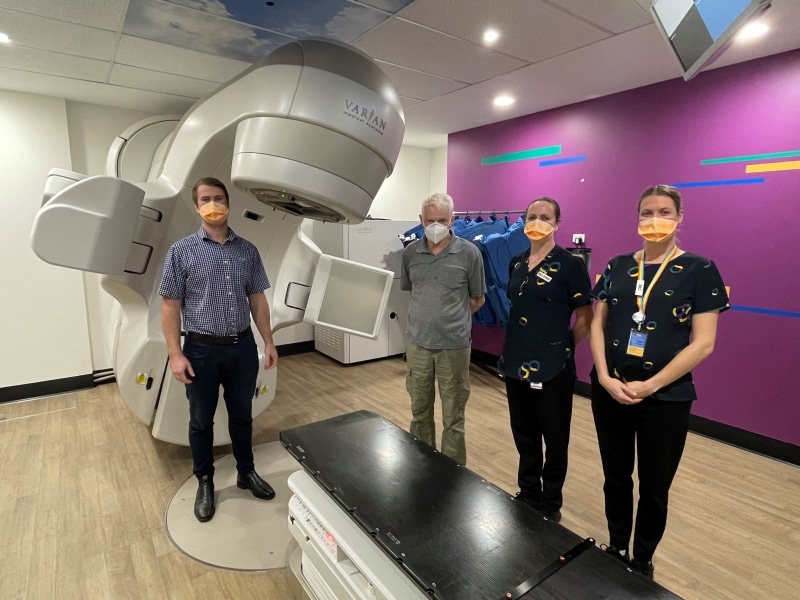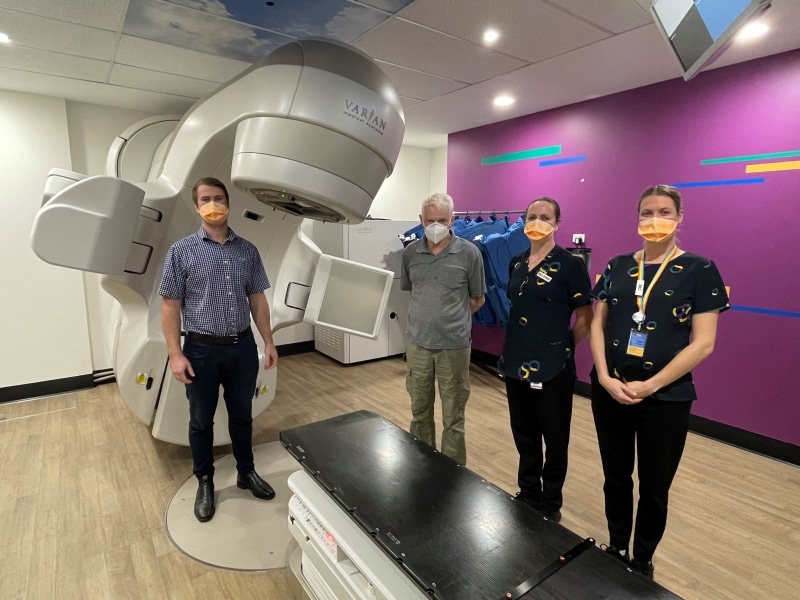 Prostate cancer is the most common cancer diagnosed in Queensland men. Over 4750 Queenslanders are diagnosed with prostate cancer every year. Icon Cancer Centre Redland is proud to offer faster, effective treatment for local prostate cancer patients with the introduction of linear accelerator-based SBRT treatment.
SBRT reduces the overall treatment time, delivering high doses of radiation in less than 15 minutes, and monitors the patient's prostate motion using small gold markers to ensure the radiation is delivered with absolute accuracy.
"It was great when I was told I could have the stereotactic radiation therapy treatment at Redland, as it saved me from having to travel to Greenslopes, which is an additional 45 minutes each way. And it was only five sessions of radiation therapy. Having worked in the IT industry, I have a lot of faith in the equipment. Because the team at Redland knew I was an IT nerd, they gave me a guided tour of the equipment, which I was blown away by," Rick said.
"It's very complex and there is so much preparation involved for each patient. It's something the team put their heart and soul into to make sure they get it right. I have the highest regard for the Icon team. They are so professional but they're so friendly while they do it all. They really do care," Rick said.
Rick says he is thankful for the support of his wife Jane, who is a former nurse, and their two children.
He also grateful to the local veterans' community, who have helped get Rick too and from treatment while Jane cares for the couple's young grandson.
"Throughout my diagnosis and treatment, I have just followed the bouncing ball. Cancer is unpredictable but I've put my faith in the medical teams and technology and done everything they have advised. That's all you can do," Rick said.