An Australian first – HyperArc technology helping patients with secondary brain cancer
Icon's Gold Coast centre becomes first in the nation to offer Varian HyperArc technology
In August 2018, local Gold Coast resident, 49-year-old, Philippa Douglas went to her doctor thinking she had asthma. After a chest x-ray and CT scan she was told she had cancer in her lung, liver and lymph nodes. Within 24 hours she had an operation and overnight suffered from a bad headache. A CT and PET scan found eight secondary tumours in her brain. She was told she would need radiation therapy for the tumours in her brain, and was referred to Icon Gold Coast Private where she would be the first in Australia to receive an advanced radiation therapy treatment technology – Varian HyperArc.
Knowing she would be receiving the latest technology helped Philippa keep a positive outlook.
"I've been surprisingly positive throughout what has been a pretty awful few weeks. I was excited and very honoured to be taking part in a new kind of cutting-edge treatment. I came in not knowing what to expect and was surprised to find it was all over in 10 minutes. There was no pain whatsoever, and I had no pain afterwards and after each treatment I was able to continue on with the rest of my day," Ms Douglas said.
"This new technology is simply incredible."

– Philippa Douglas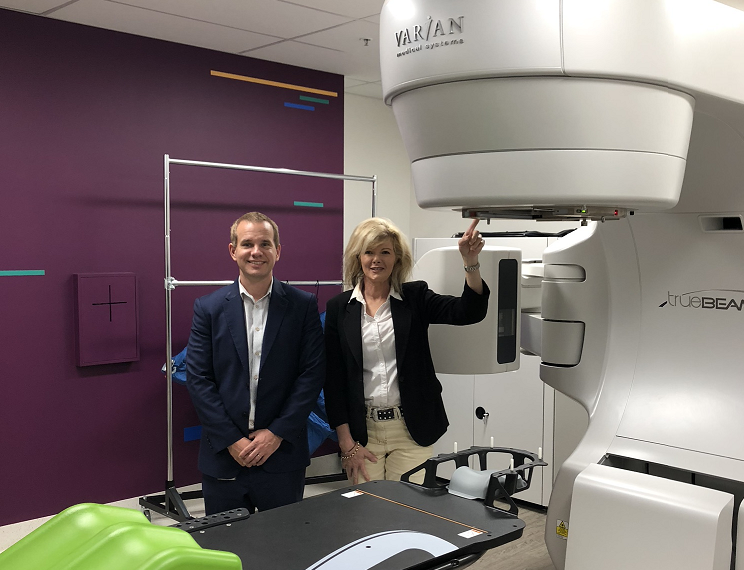 Varian's HyperArc™ is a new advanced cancer treatment technology that provides a true end-to-end solution for multiple brain metastases (tumours).
The HyperArc technology utilises the features of the Varian TrueBeam linear accelerator (the machine that delivers the radiation) to accurately deliver precise radiation therapy and enables a patient's cancer treatment to be delivered with greater efficiency, accuracy and comfort.
HyperArc enables clinicians to treat multiple tumours with high-doses of radiation therapy precisely pinpointing the tumours in various locations in the brain – all with a full automated system.
It enables multiple tumours to be treated while ensuring limited doses to surrounding healthy brain tissue. Some systems require multiple setup points and the need for treatments to stop and start, meaning patients are on the treatment bed for longer.
HyperArc is able to deliver treatment to multiple tumours quicker in one automated setup point, meaning patients are on the bed for shorter periods of time, with treatment lasting only a few minutes, and the process is completed in the safest way possible with one single process from start to finish. This means the patient is on the table for around 10 minutes, regardless of how complex the treatment may be, making it a much more seamless and efficient process for the patient.
Philippa is a single mum to a teenage boy and truly treasures moments with him and their sausage dog. For patients like Philippa, having access to world-class technology allows her to continue focusing on what matters most, while having the comfort of knowing she is receiving the best possible treatment.
"The thing that gave me peace of mind was the precision of the treatment. Knowing I was being treated with the latest technology and that the radiation was targeting my tumours with millimetre accuracy gives me hope."