Kellyann grateful for tattoo-less radiation therapy
Kellyann shares her experience receiving tattoo-less radiation therapy at Icon Cancer Centre Cairns
Breast cancer is the most commonly diagnosed cancer in Far North Queensland women, affecting more than 180 people each year. For many of these women, the need for permanent tattoos as part of their radiation therapy treatment can come as an unwelcome daily reminder of their cancer.
Through Icon Cancer Centre Cairns, local patients are now benefiting from state-of-the-art treatment using Varian's IDENTIFY™ Surface Guidance System – an advanced technology that delivers highly-accurate radiation treatment without the need to have permanent tattoo marks.
Traditional radiation therapy for breast cancer requires patients to receive very small but permanent tattoos on their chest. These tattoos help the radiation therapist position the patient correctly and deliver treatment to the right location.
IDENTIFY's cutting-edge technology marks a new standard in radiation therapy and eliminates the need to permanently mark the body, using advanced optical surface tracking and real time motion management to continuously monitor a patient's position during treatment while simultaneously tracking the patient's natural breathing movements. This real time technology not only increases accuracy but also reduces patient treatment times.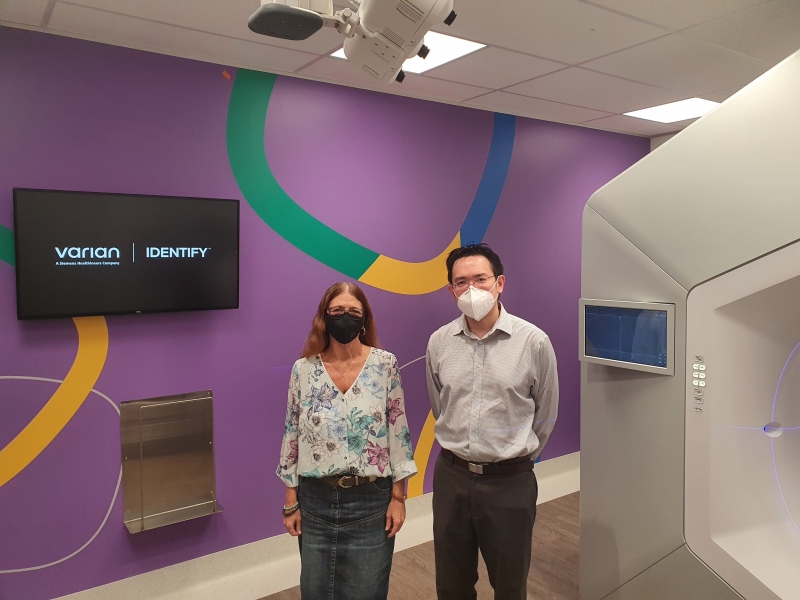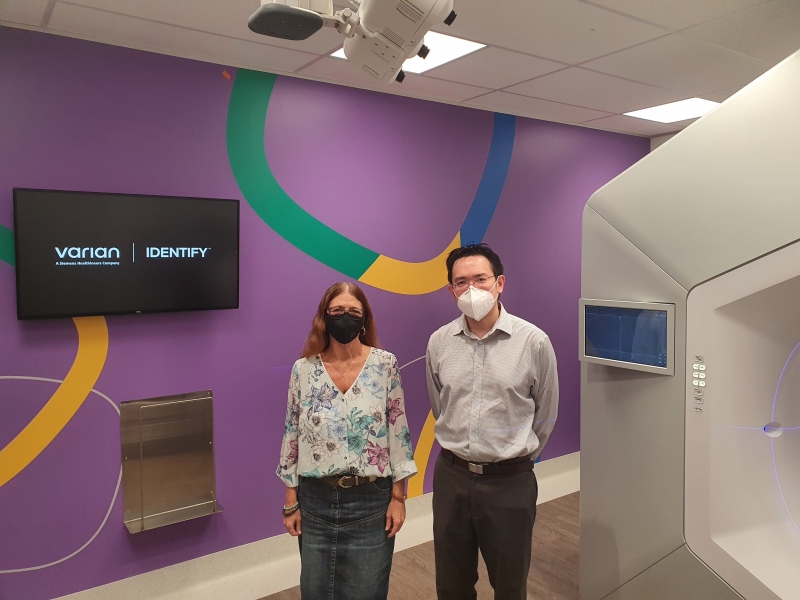 Cairns local Kellyann Kapernick was diagnosed with breast cancer in December of 2021 following a routine mammogram. The 60-year-old says her main concern when hearing the news was telling her sons and loved ones.
"I wanted them to know about it before Christmas, especially because cancer has impacted our family in the past. For me, the focus was on getting the facts and understanding the next steps. I couldn't let myself think about the alternative. My mum was diagnosed with both vaginal cancer and breast cancer in the same week and passed away from her conditions, and my two best friends also passed from breast cancer," Kellyann said.
After undergoing a lumpectomy and removal of her lymph nodes in January, Kellyann was referred to Icon Cancer Centre Cairns for six weeks of radiation therapy treatment using the Varian IDENTIFY system. She says being able to avoid permanent tattoos made things less stressful, ensuring she could focus on preparing for her treatment.
"It's one less thing to worry about. Many women are fearful of getting tattoos and the lasting reminders can be upsetting once treatment ends. To be able to avoid the invasiveness of being tattooed while having the opportunity to receive highly-targeted treatment for my cancer, it gives me peace of mind. Every step of the way, I've always felt like the team at Icon have put me first," Kellyann said.
Icon Cancer Centre Cairns is the first in the Asia-Pacific region to treat patients with the Varian IDENTIFY system using a Varian Halcyon linear accelerator.
Radiation Oncologist at Icon Cancer Centre Cairns Dr Ariyanto Pramana says the centre is focused on continuously improving the treatment experience for local breast cancer patients to ensure they can access the latest in personalised radiation therapy treatment closer to home.
"At Icon Cairns, we are dedicated to supporting our patients both during their treatment and beyond. We know that avoiding the need for permanent tattoos can reduce the emotional impact a cancer diagnosis can have on many women. This innovative system gives women a choice and supports our commitment to offering state-of-the-art treatment options for our community and empowers local women with access to the full breadth of cutting-edge radiation therapy treatment," Dr Pramana said.